Process Server Mississauga
Our Professional Process Server have many years of experience in Serving and filing legal documents. We pride ourselves in having a superb track record whereby clients have confided in us after being unsuccessful in serving respondents
We Provide Service of Process In Mississauga and Neighboring Cities
Process Serving

Providing service of process to residents of Mississauga and the Peel region. Need a legal document served on a respondent anywhere in Peel or Toronto. We can definitely help with that.

Court Filing

Court filing services done for you, no need to stress yourself. We will file your legal documents whether at the superior court or Ontario court of justice on your behalf. Let us do the work for you at a reasonable cost.

Skip Tracing

Locate anyone anywhere whether in Mississauga or across Greater Toronto Area (GTA). Looking to find a runaway tenant or a debtor? We can help find any skip if you provide the necessary information.
Mississauga Process Server | 1-289-315-3553
If your law firm is similar to most, you may encounter cases that are outside your immediate environment. How do you serve these people with the required legal documents? Mississauga process servers remain your easiest and best bet.
Hiring a random individual in the street to deliver your papers is not encouraged. Mississauga process servers are trained to perform these tasks effectively and efficiently. We will ensure that all your legal documents are well handled and served to the correct person at the right time.
Using our process servers is highly recommended. We are here to reduce the pressure on you by serving your court papers while you focus on other matters. We help you achieve 100% focus on your business with the assurance that your papers are accurately served.
Mississauga Process Serving
The truth is, not just anyone can serve legal documents. There are certain awkward scenarios that will require the help and expertise of a certified and experienced Mississauga process server, and that's where we come into the picture.
As professional Mississauga process servers with years of experience to show, we give utmost importance to all of our clients' needs and requirements. You don't need to make the situation even more awkward by hiring a rookie to deliver your court papers to who you want. Let our outstanding Mississauga process servers do the job.
We offer excellent Mississauga process serving at the most competitive rates. Our legal document servings include:
Subpoenas, Affidavits, Demand Letters, Judgments, Notice of Garnishment, Petition for Divorce, Notice of Application, Small Claims Court Documents, Termination of Tenancy forms, Summon to Witness, Summons to Court, Motion Records, Applications Records, etc.
The crux is that our highly trained Mississauga process servers can serve all types of legal documents within Mississauga and it's environs. No matter the circumstance, whether it is an evading witness or an unfaithful spouse, you can rest assured that we'll deliver those court papers fast, to the right location and person, and without any glitches. For us, getting your Mississauga process serving work done is our number one priority.
What's more? We are affiliated to the North American Association of Professional Process Servers (NAPPS). So, you can rest assured that each of our Mississauga process servers have ample experience and knowledge to take care of any situation that may occur during or before litigation. You may order directly from Court Runner Process Serving APP on Playstore and Applestore. For further information, visit the court runner website.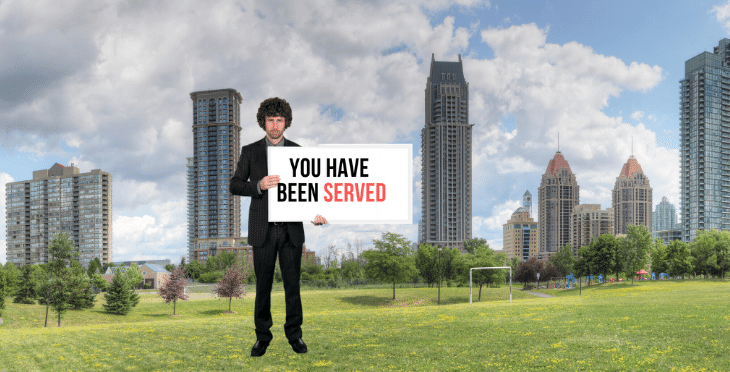 Order Court Filing
Mississauga Process Server helps you submit documents to the court in case you cannot go to the court yourself. It is the work of the clerk at the courthouse to approve the filing while ensuring that it is served on the right individuals in the courthouse such as the respondents on the case file.
Our court filing process is streamlined and we ensure that the legal profession moves at a faster speed. At Mississauga Process Server, our filing process saves costs and time. Documents are efficiently and easily traceable, managed and searched.
When we file a document with the court, it gets approved and considered quickly. We avoid missing deadlines due to errors made during filing. As your law firm becomes larger, you don't need any other office down the road. We will help you to file documents. Free consultation from any of our legal support personnel. Always available to answer any questions you may have in regarding to Process Serving and Court Filing.
Personal Service

There are several process servers in Mississauga but we remain the best option because of our custom solutions. We understand what each client requires, and we simply customize our service to meet every requirement. Our team of experts is always ready to create a simple and customized service under the law.

Professionalism

We value professionalism and we work with the legal requirements. We have an ethical team that ensures that we deliver the best service within the necessary law and regulations. We are properly located and easy to reach when you need our services. Mississauga Process Server customer service is exquisite and you can reach us at any time.

Commitment

Mississauga Process Server staffs are well trained and we render services under the law. We closely monitor sensitive services and we deliver accurate service before the stated deadline. Our client believes in us to handle various legal issues

Responsibility

We are responsible Process Servers in Mississauga. We don't make promises we can't keep. We file and serve your legal documents unlike some other process servers that lie about serving or filing your legal documents. We work with elite process servers like PST in other to serve you better
Ready to Serve or File a Legal Docment?
Contact us to personal services or services of process. Feel free to contact us if you have any questions.